invest
Investing in Brussels: the demographic comparison
Go back to all the latest news
Investing in Brussels: the demographic comparison
Those who want to invest in Brussels should first take the location into account. Population growth is gradually becoming an increasingly important factor, however.
The population of Brussels is increasing rapidly. This growth is having an impact on the demand for homes. An opportunity for property investors? Where exactly should they invest? Which districts are primed for growth? Which should be avoided? Where do the highest numbers of expats live? Do they form an attractive target group? We aim to answer these questions in this article.
Anyone who invests in residential property "needs to take three factors into account: the location, the location and the location," a specialised estate agent jokes. In line with this logic, there is another factor that has a significant impact on the market: population growth. Some municipalities and districts are slowly becoming full while others still have space and therefore potential.
Different places are also being improved (read: gentrified) thanks to attracting certain profiles, such as European expats (who are considered wealthier), young middle-class couples (who are childless or have one child) and millennials who are reclaiming the city and are looking for soft mobility and green spaces etc.
One thing that's for sure is the fact that the population in Brussels is growing faster than in other regions – with an average of 0.6 %, equal to more than 66,000 inhabitants a year until 2040, compared with 0.4 % in Flanders and Wallonia – and most importantly that the region is seeing a high degree of population turnover. According to a survey by the BISA (the Brussels Institute for Statistics and Analysis), which was published in October last year, a quarter of all Brussels inhabitants have lived in the area of the 19 municipalities for fewer than 5 years!
These newcomers are often thirty-somethings who have moved to the capital from the countryside or from abroad…or who have left their parents' house. This trend explains why small residential units such as a studio or apartment with one bedroom have greater success in Brussels. Moreover, all these people move regularly: according to the BISA, half of Brussels inhabitants have lived in their district for fewer than six years.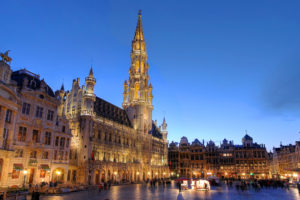 The attraction of international institutions
In order to form a picture of the future property development in the Brussels-Capital Region, we first need to take a look back at the past. A number of popular districts, such as Etangs d'Ixelles, Châtelain or Schuman have been established for a decade or more and there is no reason why that should change! Others, such as Forest, Saint-Gilles or Dansaert and Sainte-Catherine have recently increased in value and status, thanks in part to the arrival of prestigious retail chains… and Dutch-speaking inhabitants, who are coming to settle in Brussels in ever increasing numbers.
Over the years, these municipalities and districts, mainly located in the centre and south of Brussels, have developed advantages that attract both Belgians and those abroad: a pleasant living environment, good public transport links, a wide range of businesses and services, nearby schools (there is still an acute lack of these in the north, although this is gradually improving), etc. The presence of international institutions sometimes also contributes to their success.
According to the BISA, the fact that there is a Japanese school in Beaulieu explains why the Japanese often choose the south-east of Brussels and particularly the north of Watermael-Boitsfort and Auderghem. Another significant example: the European institutions work as a magnet for European nationals. In 2016, more than half of the inhabitants of the European District were new to Brussels, meaning that they were born in the Region or came to live there during the course of the year, according to analysis by the institute.
Young thirty-somethings and renters
In general, we can see that the new inhabitants of the capital mainly settle in the Pentagone area and to the east of the inner ring, close to specific functions: international employees in Ixelles and Etterbeek, students close to the VUB and the ULB, the BISA explains. These zones, just like in the south, are also very popular among citizens of the EU-15, many of whom can be found in districts such as Châtelain, Louise, Brugmann, Vivier d'Oie or Etangs
d'Ixelles (Wijkmonitoring 2016). Here we find mainly French inhabitants, who form the largest international community in Brussels (15.2 % of the immigrant population in 2017, according to Statbel).
Although these areas are not necessarily seeing the highest population growth yet, they offer investors certainty that there is genuine demand for property. What's more, many of the new inhabitants are in the 25 to 35 age group and are mainly made up of single people or couples without children. An ideal target group for homes available to rent, even more so since people are waiting longer and longer before purchasing their first home these days.
The impact on neighbouring districts
Since these districts are very popular but the available housing remains limited, the pressure on property has increased and prices are going up faster than elsewhere. Inhabitants of these zones and newcomers are therefore consciously moving out to neighbouring areas that are less highly regarded but offer more reasonable prices…and logically also potentially more attractive returns. So there are great reasons for investors to focus on the direct surrounding area of the most attractive districts.
Five years ago, the Place de Londres square in Ixelles for example was not particularly attractive. Thanks to its advantageous situation between dynamic districts like Schuman and Porte de Namur, however, it drew in a new population and underwent a transformation. Today it is a charming, lively square, where the buildings are being renovated and their value has risen. Flagey, La Chasse and the lower town of Saint-Gilles have good growth margins too, just as Matonge could begin to look very different in the long term.
Centre becoming attractive once again
The historic centre of Brussels, which was neglected for a few decades too, is now being upgraded bit by bit and is therefore more appealing for investors. Once all the work in the car-free zone is completed, this district is expected to become highly sought-after for inhabitants. We see luxury projects rising out of the ground there and many well-to-do Belgians and foreigners have recently purchased a home there or plan to move in. This return to the centre reflects a change in mentality: people want to be as close as possible to everything, without needing a car for that.
According to 2015-2025 population projections for Brussels, the City of Brussels will experience one of the largest population increases of the 19 municipalities during this period at +14%. There is also significantly more pronounced relative population growth in the west and north of the Region than in the centre and the south-east, where many of the most highly regarded municipalities can be found. The unique thing about these areas is the fact that there is still plenty of ground that is ripe for development or where new life could be injected. Work has started on many property projects here for this reason. That applies to the area around the canal, for example, a zone with a bright future thanks to its location close to the city centre.
Something to bear in mind: the north and the west
In contrast with the centre and the south-east of Brussels, the north and west also have fewer international schools, large institutions and other attractions. All reasons why a number of districts in Molenbeek, including the Brussels-West Station area, the Karreveld area or the Heysel area, have drawn in fewer new inhabitants in recent years. The population increase there has therefore mainly been boosted by births, which are statistically higher in immigrant families, and due to settlement for economic reasons.
According to a synopsis by the BSI (Brussels Studies Institute) concerning housing in Brussels, the 'poor half-moon' (disadvantaged districts in the first ring to the north and west of the city centre) continues to attract families who have been driven out of a number of zones due to their gentrification, together with immigrants from the poorest countries. We find the most expats from Africa in these areas, for example.
The government and a number of private players are putting a lot of effort into revitalising these neighbourhoods and increasing the social mix there, however. There are also great opportunities for investors here, thanks to the attractive purchase prices among other reasons. In the Laken area, a full building was recently rented within a month, at higher prices than expected. How was this achieved? Probably because it was fairly unique in this district and fulfilled the requirements of young employees who were looking for a decent rental home…before purchasing one.
Two trends that can't be ignored
Beyond the population growth and the location, further demographic aspects also require attention from investors.
 1.Delayed decohabitation
This term implies that certain young people are remaining at their parents' homes for longer – often for financial reasons. This trend can be seen more often in the disadvantaged parts of the Region than in the wealthy outskirts. It has an unavoidable impact on the market, since these young people are all potential tenants that can no longer be counted on. The BSI notes, however, a "significant latent demand for small homes that are affordable for young adults." So there is an opportunity for investors to offer such homes for rental.
 2. Larger families
The average family size within the Region has increased over the course of twenty years from 2 to 2.15 people and is expected, according to the Planning Bureau, to increase to 2.28 people by 2060. This trend, which goes against the grain of the other Regions in Belgium, can be explained in part by the fact that young people are leaving their parents' homes later and by the higher fertility of families with migrant roots (of which there are many in Brussels). We can also assume that the increase in house sharing or shared renting – including among older people – contributes to this. In the long term, this (slight) increase in family size could have an impact on the need for accommodation, and drive investors towards slightly larger homes – with one or two bedrooms – again.
Latest news related to invest