lifestyle
Ten tips to turn your small apartment into a grand interior
Go back to all the latest news
Ten tips to turn your small apartment into a grand interior
Did you know that the average floor area of an apartment in Flanders decreased from 88 m² to 66 m² between 2000 and 2016? Young families and first-time buyers in particular are living in ever smaller homes due to rising land and energy prices. Fortunately a small apartment can still feel large, provided you follow a few simple but clever tips.
1. Go for made-to-measure furniture
If you have too little space, you need to make optimum use of it. Leave no centimetre above, below or next to cupboards, beds and sofas unused, build in handy storage. Made-to-measure furniture has the additional advantage of adding harmony to your interior.
2. Downsize your dining table
You really don't need that enormous dining table. Replace it with a small, cosy round table that's just big enough for its everyday users. You will gain a lot of valuable space by doing so. And if you have more people in, you will find a simple solution for an evening.
3. Hang your television on the wall
Belgians are fond of their television stands, but this type of furniture gobbles up space. Think about hanging your television on the wall with a sturdy television bracket or put it on the mantelpiece. You will gain a lot of useful floor space.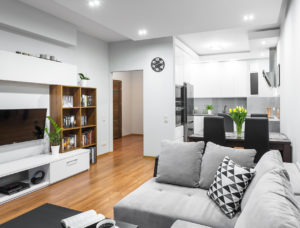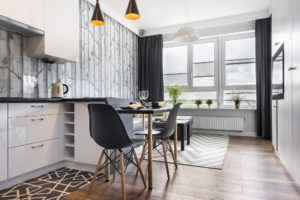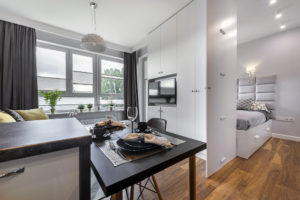 4. Create zones
As much open space as possible seems logical, but it's not a good idea in a small apartment. The various functional spaces (bedroom, kitchen, dining area) become mixed and create a suffocating sense of chaos. Instead, choose zones that are visually separated from each other by cupboards, curtains or simply by paint colours.
5. Make full use of optical illusions
Light shades of colour give more of a sense of space than darker ones, mirrors give your room extra dimension, curtains hung from the ceiling instead of on the window frame make your ceiling seem higher… These are classic tricks, but they always work!
6. Don't overdo shopping for home accessories
It's fine to buy home accessories, but it's best to avoiding filling space with ornaments. First buy the large furniture items and then add to these with a limited number of visual details. It might seem like a contradiction, but it's better to have a small number of large items of furniture in a small space than lots of little things here and there.
7. Add glass
Get rid of partitions, make windows bigger or replace solid doors with glass ones so that you let as much light in as possible and make your field of view wider.
8. Opt for built-in or concealed lighting
Lamps are often beautiful works of art in themselves. However, in small spaces they are too prominent. So opt for built-in lighting where possible. If you can't manage that, there are many ways of introducing concealed lighting: a strip of lights on top of a cupboard, under a piece of furniture or behind a sofa can create a delightful visual effect.
9. Don't forget to use your floor
Let flooring on a single storey as far as possible run through into different rooms. If you give every room different flooring, the room will appear visually smaller. Also avoid skirting boards between doors. If you want to make the space even bigger, use the same colour for the floor and walls. Your furniture will appear to float in the air!
10. Tidy up
Our last tip is, perhaps, the most difficult one, but also the most effective one: tidy up regularly. Because the fewer things are in your field of view, the roomier the space will feel.
Latest news related to lifestyle